How long do timing belts really last ?
For most vehicles, it is recommended the timing belt replacement intervals vary between 60,000 and 106,000 miles. In some modern cars, the intervals are even longer. Some car makers also list the time interval (e.g. every 7 years).If you havent reached the millage first. First, you need to find out your car's engine size, because many cars offer several engine options. Knowing the engine size, you can find the timing belt replacement interval in the maintenance schedule.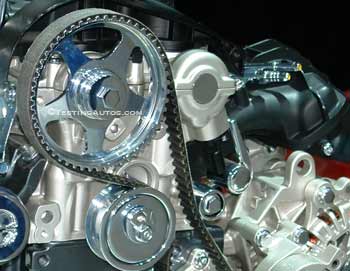 Why does the timing belt need to be replaced?
Over time, it wears out. If the timing belt breaks, the engine will stop running and will need repairs. The repair cost will depend on the damage. If the vehicle has an interference engine, the repair might be expensive,(IE: Another engine completely) read more below.

Another reason is that over time, the timing belt stretches. Symptoms of a stretched timing belt include a lack of power, slow pick-up and the Check Engine light coming on. In some cars, a stretched timing belt can also produce a dull rattling noise coming from the timing belt area.
If your unsure just give us a call to pop in and we can advise and let you know if your belt need changing or even when.